Welcome to The Lodge Kennels, home of Nyrvana German Shepherd Dogs (GSDs)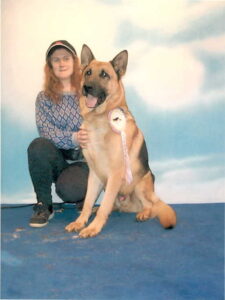 The Nyrvana strain of German Shepherd Dogs began in 1973 with the aim of breeding the total all round GSD, pleasing on the eye, sound in mind and body, with the versatility to be a working dog or a highly trainable active companion.
My home bred GSDs have had great success as Police Dogs, Prison Service Dogs, Personal Protection Dogs, Security Industry Dogs, Shepherding Dogs, Competition Dogs in Obedience, Working Trials, Schutzhund and Agility, Guide Dogs and Service Dogs for the Disabled plus the many who are beloved Family Companions. Whatever a GSD can do, there is a Nyrvana, somewhere, doing it!
It is no secret that I am a great fan of the longcoated German Shepherd and my longcoated studs such as Nyrvana Hotspur BOB, Nyrvana Tao, Wolfbain Frankie Fitzhugh Nyrvana, Greenveldt ]ago Nyrvana and Nyrvana Moody Blues HOT Sch H 1, can also be found in many pedigrees where other German Shepherd breeders have had the foresight to use these dogs to gain more than just a long coat in their puppies.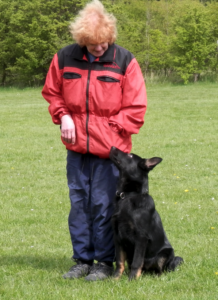 As a keen dog training enthusiast, working ability is high on my list of priorities and all my dogs have some degree of training so I know their capabilities. I also train some to a more advanced degree and have personally trained and qualified dogs in Schutzhund had some success in Competition Obedience and dabbled in Working Trials. I am fortunate to have the assistance of my partner K9Ulf whose help and professional dog twining advice has been invaluable.
Nyrvana GSDs have always been known for balanced temperament with the looks of a film star! Because they have brains as well as beauty, they are confident, fun to live with, highly trainable and loyal to their family with the bonus of great versatility. Due to my interest in Schutzhund, I also breed an occasional litter with that extra spark that gives you the edge in competition, be it Obedience, Trials, Agility or Schutzhund, where attitude completes the picture of a well trained dog enjoying its work.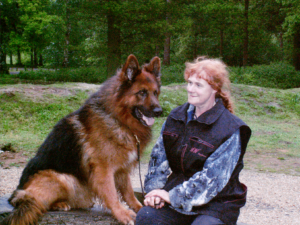 Whatever you require of your German Shepherd, we will do our best to help you make the right choice. Our dogs are happy and sociable so you can meet the parents and other relatives to get an impression of what your puppy will grow up to be and since our dogs are healthy and long lived, you can see several generations. Our puppies are lavishly reared, wormed, vaccinated, identity tattooed, KC registered and insured.
We offer lifelong support for our puppies and actively encourage continued contact. We are happy to advise any time in the future and will always take back a dog we have bred, at any age, if the owner's circumstances should change. Please join our Facebook Group for regular updates on upcoming litters and dogs for sale.